What is plastic cup sealing film?
What is plastic cup sealing film?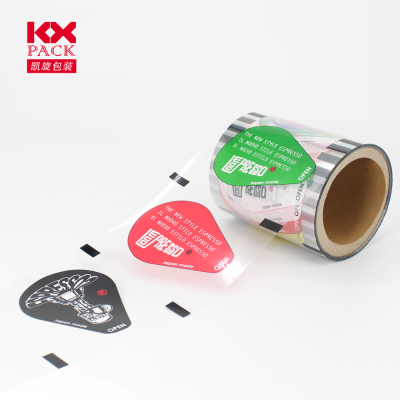 Custom boba tea cup sealing movie is a extraordinary way to construct your brand and boom customer loyalty. Sealing movies with your logo additionally offers your shop a professional look and costs much less consistent with seal than conventional lids. We have pp, puppy, and paper movies to be had for a custom print.
Cup sealer machines use a plastic movie to seal an expansion of different merchandise including bubble tea, espresso, smoothies, frozen yogurt, etc. One way to assist your emblem stand out is with a custom sealer film which has your logo on it.
Custom plastic cup sealing film
A custom designed sealing movie along with your emblem on it facilitates construct consumer reputation and loyalty. It is used with a sealing system and creates the suitable spill-proof, airtight cup.
There are numerous motives to select custom bubble tea sealer movie over conventional lids. First, it's far more convenient for take-out liquids as it stays sealed if tipped over and won't spill in your bag or car. Custom sealer film appears more expert and it allows to promote it your business as it reinforces your company's brand. Whilst humans see your sealer film, they will understand in which it came from.
Custom bubble tea sealer film can also save you money. It charges about half of the fee of conventional lids.
The use of plastic cup sealing film is likewise better for the environment as it makes use of less plastic which in turn makes much less waste. Rolls of sealer movie will also take much less storage space on your keep than conventional lids do. A unmarried roll can seal three,000-four,000 which might be two big boxes of traditional lids.
Simply ensure that your cups and custom bubble tea sealer movie are made from the equal cloth to seal properly and you may begin reaping all of the blessings.
Sealing different containers
Do you have got some other field to seal? We are able to create a custom lid for nearly any container! We've created plastic movies for frozen foods, warm soups, to-cross sushi, and greater!
How a whole lot does custom film value?
Custom sealing films truly cost much less in keeping with roll than clear movies!
How to get commenced printing custom movies?
First, ship us your emblem, we can print up to 5 colorations without cost on maximum sealer movies!
Next aspect is to decide what type of fabric to apply. Pp cups are the most low in cost for each cups and custom sealer film. Pp cups will have a lower moq (minimum order quantity) and a lower price than pet, pla, or paper cups.
https://kxpack.com/product-category/cup-sealing-film/
How to customize good recycle food packaging films with us?

Shantou Kaixuan Packaging Co.,Ltd
Direct manufactory focus on packaging over 20 years,expecially in color printing,blister and bag making.Integrated in design,production and sale.Kaixuan factory covers an area of 20000㎡,equipped with a 10000 level dust-free workshop,300m/min 12 color high-speed gravure printing machine,automatic high-speed blister machine with German technology,eight side sealing bag making machine and other high-standard bag making equipment.
No Benzene No Ketone Ink.Meanwhile, we using benzene free and ketone free,ink and other eco-fridendly materials.The daily capacity could reach 150 tons,absolutely meet your needs in Safe,Efficient and Healthy.
We accept customized orders.In order to offer you a correct quotation,we should need your details as below:
Qty
Printing color design
Materials and thickness
Size
Learn more about food packaging films by our website,Kaixuan Packaging,a manufactory focus on packaging over 20 years,expecially in color printing,blister and bag making,cat food bag OEM
Food packaging films – China Packaging Bag & Film OEM Factory (kxpack.com)