Pet Food Packaging Design And Trends For 2023
Pet Food Packaging Design Is very important . Shoppers favor healthier, more sustainable food options and are looking for the same qualities when they shop for their pets, and they say they are willing to pay for these additional benefits. According to a global study conducted by Nielsen, nearly three-quarters of people say they are willing to pay a premium for sustainable products.
In addition to sustainability and environmental impact, young consumers are also looking for pet food that provides an exceptional taste and quality experience for their pets and is labeled with healthy, natural ingredients. Pet parents are also looking for easy-to-use packaging.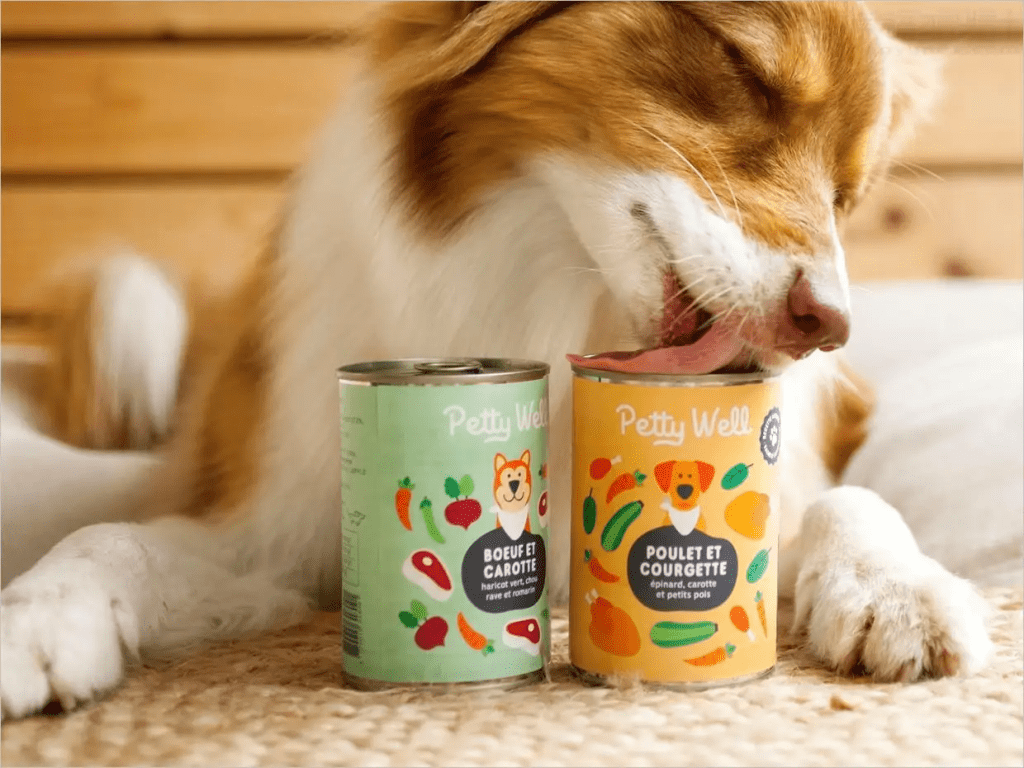 1.Current situation of pet food packaging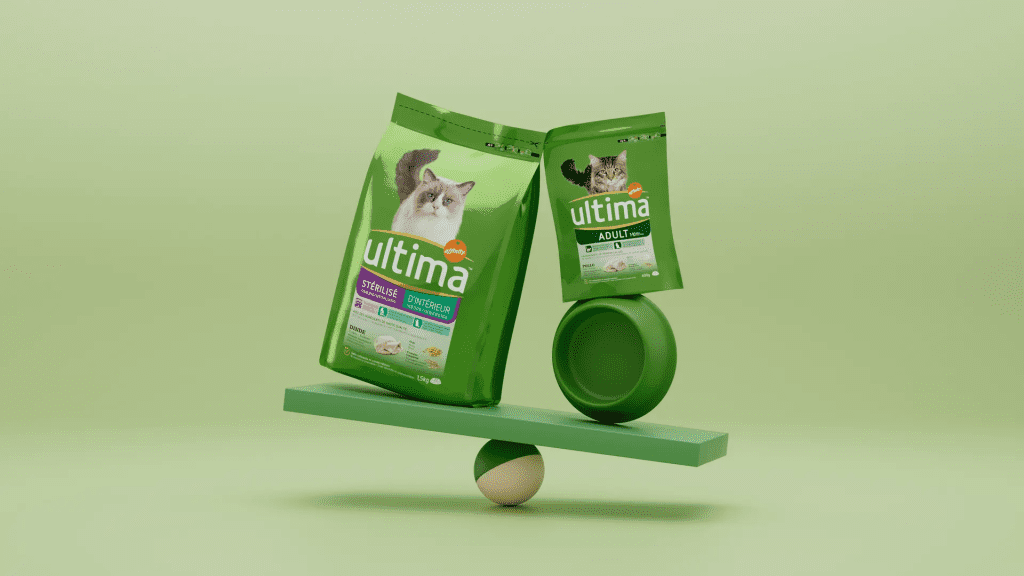 According to the report "Pet Food Packaging Market – Growth, Trends and Forecast (2023-2024)", the pet food packaging market was valued at $10.6 billion in 2022 and is expected to grow to $12.9 billion by 2024, with a CAGR of 6.79% for the forecast period 2022-2024. As pet owners want more reassurance, information, and tasteful packaging, manufacturers are pushing to improve labeling and produce smarter pet food packaging.
Packaging plays a key role in the strong growth of the pet food industry, especially when it comes to premium products. The bags or containers allow manufacturers to stand out from dog and cat owners who want sustainable choices, personalized pet diets and even humanized ingredients.
2.Trends in pet food packaging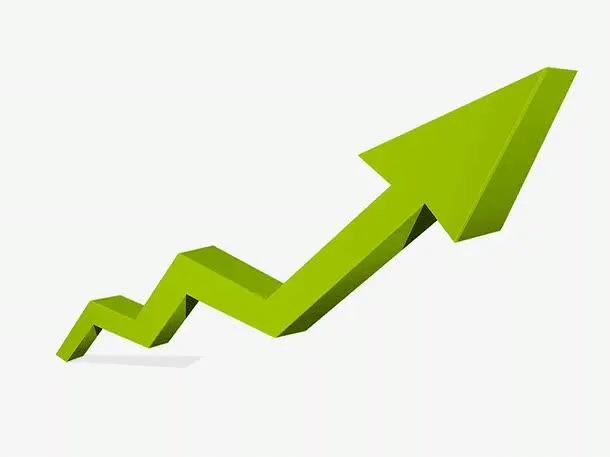 Sustainable development
The sustainability of pet food is not only about the sustainability of the packaging of its ingredients, but also plays a key role in the environmental characteristics of the product. According to a Mintel survey, 29 percent of American adults ages 18 to 22 say they have specifically purchased eco-friendly products.
Using intelligent design and material selection, there are several ways to reduce the environmental impact of packaging. Use packaging that is light in weight and usually uses fewer materials. Also, make sure these materials come from renewable and sustainable sources, such as plastics made from plants such as sugar cane.
Another important sustainability aspect of pet food packaging is its ability to protect food, extend its shelf life, and prevent unnecessary waste. Choose a package that protects against exposure to light and oxygen and protects the taste, color, smell and nutritional value of the product. Sterile and cooking cartons are a good example. The technology can extend shelf life without preservatives or refrigeration.
Packaging recycling is another important consideration for environmentally conscious consumers. Pet food brands should further clearly advertise the life cycle of packaging, including what can be produced after packaging is recycled.
Taste and quality
Pet parents are increasingly concerned about feeding their pets with quality ingredients. According to Mintel, four out of 10 dog owners take their pet's taste preferences into account when choosing food – a more important determining factor than the limited nature of the ingredients or the lack of grain. Among cat food buyers, 31 percent make a decision based on taste.
As further evidence of the flavor trend, pet food ingredients or broths have become a growing part of the pet food industry, and currently, 12 percent of American cat and dog owners buy these foods. Mintel's research shows that adding a top to both wet and dry food customises the eating experience for your pet and adds nutritional value.
Pet parents are also paying close attention to the quality of the ingredients listed on the label. According to Nielsen, sales of pet food without Gmos increased by nearly 29 percent in 2022. Other "no-add" foods that lead to increased sales include the absence of corn, hormones, fillers, artificial preservatives and artificial colors.
The label
Cleaning labels are another area where pet food trends strongly mirror human food trends. The trend for cleaning labels is to list short, easy-to-understand ingredients on the label. In 2017, 62% of U.S. consumers said the fewer ingredients in a food, the healthier it is; Nearly 50 percent of people say they prefer food without artificial additives, according to a survey.
Not surprisingly, many consumers want the type of meat highlighted in their pet food ingredient lists. In fact, one survey showed that 40 percent of dog food buyers and 35 percent of cat food buyers based their purchasing decisions on "real meat being the first ingredient."
Flexible packing
Flexible packaging, such as stand-alone packaging or convenient sized packaging, has gained more appeal among pet owners due to its accessibility and functionality. Small pet food bags can be customized to different sizes of products, portable and keep products fresh, giving them a longer shelf life.
Flexible packaging not only provides a safe protection for pet food, but also eliminates waste due to its all-in-one nature.
3.A new packaging style for the American market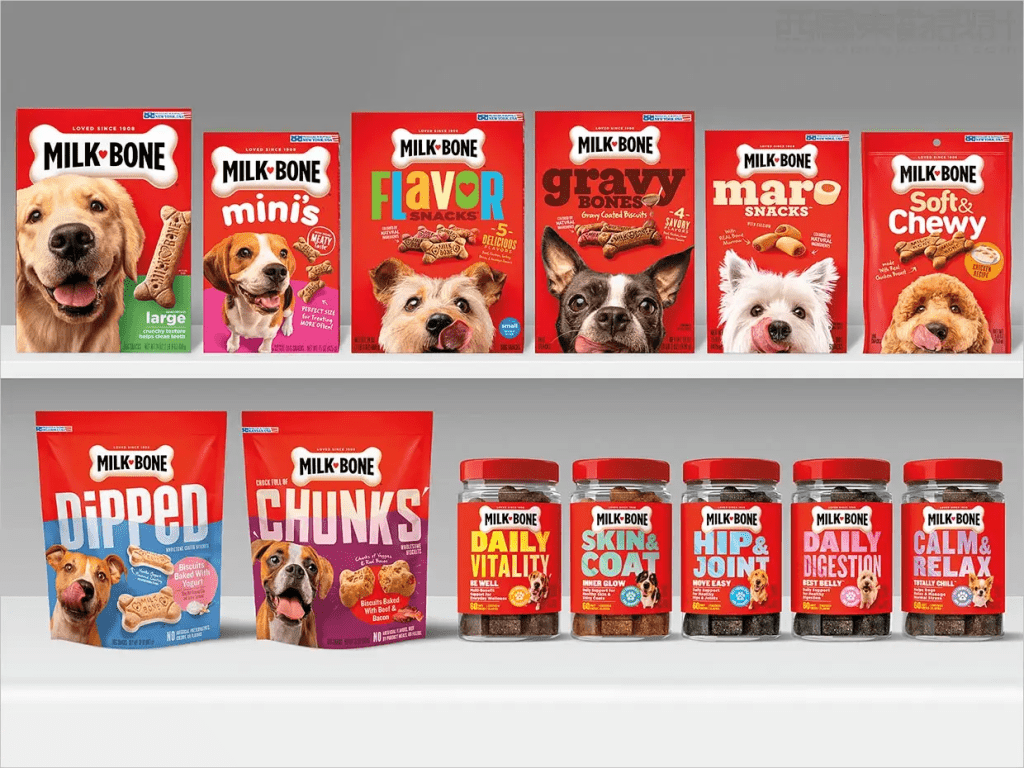 Flexible packaging for pet food, such as pet treats and large bags of dog food standing, is still a relatively new concept in the United States. Traditionally, animal feed and related products are packed in large boxes, fragile bags or hard cans. New developments abroad have pushed flexible packaging to the forefront, making it the first choice of the world's most influential modern brands. The company utilizes fun, stylish packaging that is sleek and highly functional in an exciting way to attract new customers and reshape the market.
We are seeing more and more pet businesses choosing unique packaging for their food and snacks, which makes them stand out from the competition and attract consumers. One trend observed at trade shows is smaller food packages for cats and dogs. These single-use packs are made to meet the demand for smaller pet breeds — a growing trend in the United States. So companies that sell these products need to put special emphasis on the way they are packaged.
The new bag style can be customized to fit almost any size of product while isolating air and extending the shelf life of fresh food stored inside. Utilizing these innovative one-piece packaging reduces foreign waste while providing a flexible barrier that maintains the quality and integrity of pet food.
4.Why can the design of pet food packaging make the brand successful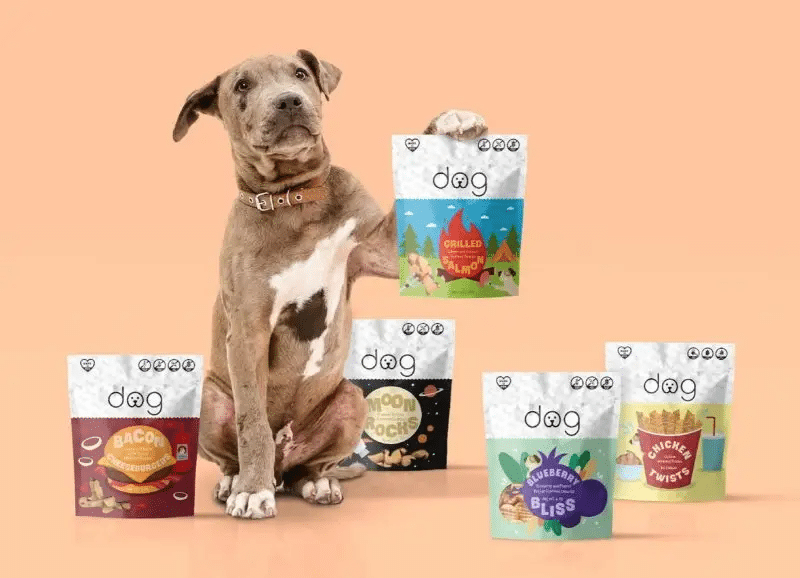 Trends in pet food packaging design closely mirror those we see in the "human food" category. The demand for healthier and more sustainable options is driving changes across the food packaging industry, with pet owners often incorporating their pets into their families to make healthier and more environmentally friendly food buying decisions. They want their pet food to be "just as good" as the food they eat.
These decisions are often made on the spot by consumers standing in front of supermarket shelves, so the packaging design determines whether your product goes into a shopping cart or not.
Here are some of the top strategic issues for our clients' pet food packaging design:
— Is the packaging safe, with excellent shelf stability and barrier control? The structural design of pet food packaging is as important as aesthetics to ensure the safety of pets and avoid damage.
Is it convenient to pack? Will consumers be able to easily take it home and effectively reseal it from first use to the end of its useful life?
— Is your pet food packaging structurally designed to make transportation and storage easier and more cost effective?
— Is the packaging recyclable or fully biodegradable?
We have seen a healthy year-over-year growth trajectory in the premium pet food category, which means greater opportunities and greater competition for manufacturers. While different factors determine the success of each brand, there is no doubt that one of the biggest competitive differences is pet food packaging design.
5.conclusion
Over the past few years, the entire pet food packaging industry has undergone several urgent changes, pushing the market in an exciting new direction by adhering to new regulations, adhering to quality standards, working with pet product companies to optimize the market and reflect brands through the storage of products.
Packaging is no longer seen as something that lags behind consideration, and suppliers of innovative packaging solutions have become an integral part of business partnerships and teams. After all, your product packaging is what people see first, so whether you're at a trade show, conference, presentation booth, investor meeting, or in the aisles of a store to become a leader in reshaping the pet world, start by mastering the latest trends, technologies, and strategies to successfully sell your pet products.
Get in touch with us for more new designs!

Thanks for reading
Follow us for more information